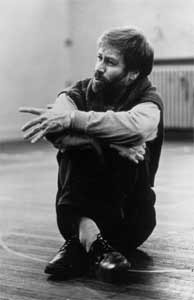 Biography....

The baritone, Gwion Thomas was born in Gorseinon, South Wales and gave up a career in banking to study singing at the Royal Northern College of Music, Manchester, where he graduated with Distinction, winning many prizes.

His operatic roles include Figaro in Barber of Seville and First Mate in John Metcalf's Tornrak for Welsh National Opera. He also sang Maitra and Presiding Judge in Param Vir's double bill, Snatched from the Gods and Broken Strings and more recently the role of William Godwin in the Sally Beamish's Monster for Scottish Opera. He has performed several roles for Kent Opera, such as Chao Lin in Judith Weir's A Night at the Chinese Opera, Ned Keene in Peter Grimes and the title role in Monteverdi's Orfeo. At Aldeburgh Festival he has sung Mr.Punch in Birtwistle's Punch and Judy and created the title role of The Wildman in Nicola LeFanu's new opera. For Music Theatre Wales his numerous roles included Mr Punch in their acclaimed production of Punch and Judy, Blazes in Peter Maxwell Davies' The Lighthouse, Pasternak in The Electrification of the Soviet Union and Hermes in Param Vir's Ion, which was a joint production with the National Opera du Rhin in Strasbourg and the Berlin Festival. He has also recently performed the Pasternak in The Electrification of the Soviet Union for Opera Vest in Norway and Blazes in Peter Maxwell Davies' The Lighthouse for Transparant Muziektheater in Antwerp. With the latter he also took the role of the composer Janacek in their production Intimate Letters

On the concert platform he has performed the role of Chao Lin in A Night at the Chinese Opera for Scottish Chamber Orchestra, Boatswain in HMS Pinafore at the Royal Festival Hall with the London Philharmonic Orchestra conducted by Roger Norrington and the Journalist in Lulu with the BBC Symphony Orchestra conducted by Andrew Davis.

Past prestigious recitals include Schubert Institute, Kent Opera Janus Series, Manchester Midday Concerts, and Machynlleth Festival, where he has performed the Schubert Song-Cycles. He is also a frequent guest soloist with Male Voice Choirs

Further engagements which emphasise his wide and eclectic range,include Zuniga in Carmen for Stowe Opera, numerous roles in Nigel Osborne's new opera The Piano Tuner and Faber in Tippett's The Knot Garden, both for Music Theatre Wales in joint productions with the Royal Opera House.

He has also premiered Andrew Lovett's operas Abraham on Trial, and Don't Breathe a Word, both with Frances Lynch's Electric Voice Theatre at Cambridge and Colchester. Also, sang in Dave Heath's new opera Everyday Occurrence with the McFall Ensemble in Edinburgh and Glasgow.

He has also premiered a solo scene from Edwin Roxborough's new opera 'Abelard' as part of a concert with the Birmingham Conservatoire Symphony Orchestra.

Other recent work include The Childhood of Christ by Berlioz at Oxford Town Hall, Mozart Requiem at the Sheldonian in Oxford, and Elijah with Eynsham Choral Society. He has also sung Mr.Punch again in a highly successful revival of Punch and Judy with Music Theatre Wales at the Linbury Studio, Royal Opera House. With MTW also he also took the role of Man in Huw Watkins' new opera Crime Fiction and the Soldier in Stravinsky's The Soldier's Tale (in a new Welsh translation) in a double bill entitled Temptation/Temtasiwn at the Wales Millenium Centre, Cardiff.

2011 saw Gwion take the role of Dad in Music Theatre Wales's highly acclaimed and prize-winning production of GREEK by Turnage. More recently, with the same company he sang the role of Huld in the World premiere of Philip Glass's opera THE TRIAL (based on Kafka's story).He has also just returned from Istanbul where he was the protagonist in Michael Ellison's new opera DENIZ KUSTU:THE SEA-CROSSED FISHERMAN. He also sang the role of Mr.Brocklehurst in a concert performance of Joubert's JANE EYRE in Birmingham.

Recent concerts and recitals include Schubert's WINTERREISE in Loughborough and Delius's SEA DRIFT with the Conservatoire forces in Birmingham Town Hall.

He has been involved with further performances of THE TRIAL, this time with Scottish Opera, and the role of Man in Y TWR (The Tower), a new opera in Welsh by Guto Puw with Music Theatre Wales. Further oratorio performances included Mendelssohn's Elijah and St.Paul, and the Requiems of Brahms, Faure and Durufle. Most recently he sang Finzi's beautiful song-cycle By Footpath and Stile with the Tedesca String Quartet, and a new song-cycle by Vivienne Olive, both at Brixworth Music Festival. He has also sang the role of the Mayor in a big community opera project with Barefoot Opera in Hastings, called Bloom Britannia by Orlando Gough.

He continues to enjoy his teaching, both privately and at the Royal Birmingham Conservatoire and also at Rugby School (further details on my Teaching page).